1 | 2 | 3 | 4 | 5 |
6

Deluxe Siler Flintlock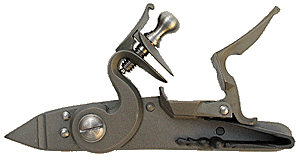 Model # L-18
Need to replace a standard large Siler lock, or do you have a pre-carved stock already inlet for a large Siler, or do you just want something a little better that the standard Siler lock? The Deluxe Siler uses the standard Siler plate, but incorporates the taller hammer, different tumbler, and fancy frizzen spring from the Golden Age lock for improved performance.
Dimensions: 5 ¼" x 1"
Flint Size: 7/8" x ¾"

"Dale Johnson" Flintlock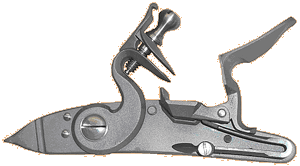 Model # L-19
Jim Chambers Flintlocks, Ltd. announces a new and exciting Golden Age styled flintlock - the "Dale Johnson" lock. The expert minds of Jim Chambers, LC Rice, and Dale Johnson have created a new Germanic influenced lock of the Siler/Chambers style. The "Dale Johnson" (a backwoods East Tennessee craftsman and engraver) lock plate is the approximate size of a large Siler but featuring a 1/8" drop in the tail and a banana base line curvature reminiscent of the Transition period. The pleasing lines of this lock will transition into the wrist of any rifle in a very graceful manner. By using the Chambers' Golden Age hammer and tumbler combination on this lock plate they have produced a lock with comparable speed to that of the notoriously quick Chambers' Late Ketland.
Dimensions: 5 ¼" x 1"
Flint Size: 7/8" x ¾"

Gunmaker's Flintlock
(assembled or kit)
Left or Right Hand!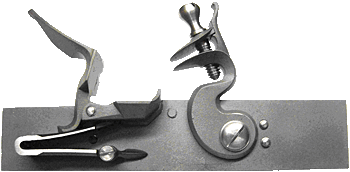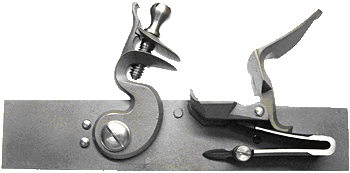 Model # GM (Regular Siler Parts)
Model #GM- (DeLuxe Siler Parts)
All the quality and reliability of the Large Siler you've come to know and trust, now complete with Versatility! By leaving the lock plate square you have the choice and ability to create the lock design you really want. This lock is fitted with all the high quality parts that makes the Large Siler the top choice for shooters and builders alike. Knowing you'll have a precision tuned, trouble-free, dependable lock with the plate design you need for that special rifle makes this lock a true one of a kind.
Dimensions: 5 7/8" x 1 3/16"
Flint Size: 7/8" x ¾"
LOCKS page: 1 | 2 | 3 | 4 | 5 | 6