1 | 2 | 3 | 4 |

5

| 6

Queen Anne Pistol Flintlock
(available assembled only)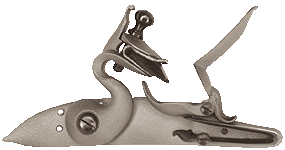 Model #L-13
Historically, the Queen Anne lock is the same as the Colonial Virginia and the Round-Faced English locks. It has been reduced in size for use on pistols and small rifles or fowlers of the same time period. One would find locks of this type on pistols made between 1740 and 1780 both in the colonies and in England.
Dimensions: 5" x 27/32"
Flint Size: 3/4" x 5/8"

Early Ketland Flintlock
(available assembled only)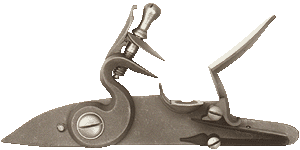 Model #L-15
From the mid-1700's through the mid-1800's, three generations of the Ketland family were heavily involved in the gun trade from Birmingham and London, England to Philadelphia. Our early Ketland is the type of lock that was produced in Birmingham during the 1760's and 70's and exported to America. These "export quality" locks were not fancy, but were entirely serviceable. They were used on a wide variety of rifles, fowlers, and trade guns produced during the second half of the 18th century. This lock uses the same internal parts as the Colonial Virginia and Round-face English locks, and has the same cam-type action and a sear that returns to the same position at rest, half-cock, and full cock. As with all our locks, you can expect an abundance of sparks for fast, reliable ignition.
Dimensions: 5 3/4" x 1"
Flint Size: 1" x 7/8"

Late Ketland Flintlock
(available assembled only)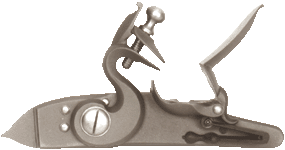 Model #L-16
By 1800 the style of lock being produced by the Ketlands had changed to this later form. This style was commonly imported and used in virtually all areas of the country involved in producing guns. This lock incorporates a roller on the frizzen spring and uses the time-tested and proven internal parts from the large Siler lock. This lock is fast, reliable and easy on flints.
Dimensions: 5" x 15/16"
Flint Size: 3/4" x 5/8"
LOCKS page: 1 | 2 | 3 | 4 | 5 | 6