1 | 2 | 3 |

4

| 5 | 6

Colonial Virginia Flintlock
(assembled only)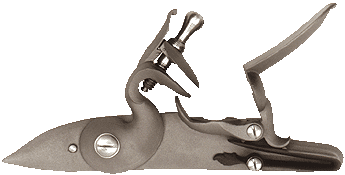 Model #L-14
During the 1740's, 50's and 60's, locks of this type were made in England and exported to America. These locks were used throughout the Colonies particularly on rifles, fowlers, trade guns, and military-style muskets made in Virginia, Maryland, and the Carolinas. With the start of the Revolutionary War in 1776, the exportation of military items to the Colonies ceased and after the war, when exports resumed, locks of this style were out of vogue in England. Therefore, we can assume that rifles made with this style of lock were probably made prior to the start of the Revolution.
Our Colonial Virginia Flintlock was copied from the lock on the rifle pictured on page 521 of Rifles of Colonial America, Vol. II. The rifle is now in the Colonial Williamsburg collection.
Serious hunters and trekkers have told me that most locks will work fine at the range on a clear sunny day, but that there is a need for a lock that will produce enough sparks to fire every time, even under the most adverse conditions. This is the lock of choice when the going gets rough!
Dimensions: 6" x 1"
Flint Size: 1" x 7/8"

Round-Faced English Flintlock
(assembled only)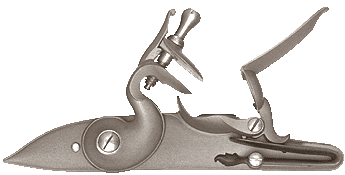 Model #L-12
This lock is interchangeable with the above Colonial Virginia lock, but has the added features of a relief border around the plate and cock, and a raised waterproof pan. Both locks have the cam-type action, a sear that remains in the same position throughout the cocking cycle, and a very long service life. Locks of this quality would have been found on high-grade English fowlers or officers' fuses.
Dimensions: 6" x 1"
Flint Size: 1" x 7/8"
LOCKS page: 1 | 2 | 3 | 4 | 5 | 6