1 | 2 |

3

| 4 | 5 | 6

Early Germanic Flintlock
(assembled only)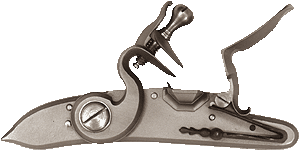 Model #L-5
Several of the best early transitional period (1750-1770) gun makers learned their trade or worked at the Morovian settlement of Christians Spring, Pennsylvania. These artists included William Antes, Jacob Dickert, and the Unknown gunsmith who made the fine rifle carried by Edward Marshall. Some of these gunmakers were trained in Germany and continued to use many of the German details in rifle and lock making. This lock fits the traditional period niche with it's Jaeger-like features. Anyone considering making a Jaeger or a transitional period rifle or Fowler of the 1750-1770 period would find this lock ideal. As with all our locks, it is fast and reliable.
Dimensions: 5-3/4" x 1-1/16"
Flint Size: 7/8" x 3/4"

Golden Age Flintlock
(assembled only)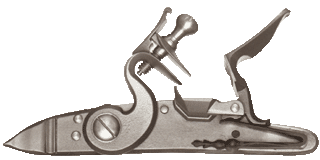 Model #L-3
This lock is of the same period (1770-1790) and style as the original Siler Flintlock. However, several changes have been made: the lock plate is longer and has a slimmer tail for good wrist architecture; the taller hammer enables the flint to scrape more of the frizzen face for more sparks; and the tumbler is engineered to give a long throw and a cam-type action. These features, along with bearing surfaces on both tumbler axles, make this lock very fast--and more importantly--very consistent from shot to shot. The sear remains in the same position throughout the cocking stages allowing a single trigger to be snugged up tight and rattle free.
Dimensions:5-9/16" x 15/16"
Flint Size: 7/8" x 3/4"

Golden Age Percussion Lock
(assembled only)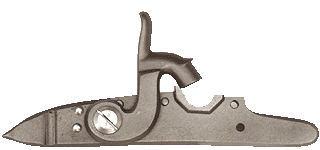 Model #L-4
In the 19th Century many flintlocks were converted to percussion ignition. The easiest way to do this was to remove the flint components, cut off the front portion of the pan, enlarge the pan area to accept a drum and nipple, and install a percussion hammer. This is exactly what we've done with this lock. The plate and internal parts are interchangeable with the flintlock above.
Dimensions: 5-9/16" x 15/16"
Drum Size: 1/2"
LOCKS page: 1 | 2 | 3 | 4 | 5 | 6